Enter the world of ClanHeart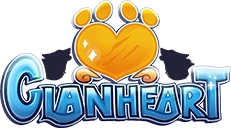 A new era dawns...
After what seemed an eternity of darkness, the Gods stir once again. The lands previously left barren have begun to teem with life and energy. Accompanied by your companions, you must now set out to cultivate your own territory. Some may look on in awe, but great dangers lurk unseen. Though you have settled down, your journey is only just beginning.
scroll down for more information
Hello everyone, I know it has been quite some time since you last received an update. There has been a lot of discussion and consideration going on behind the scenes, and now I would like to bring details of the situation forward to you all. Let me introduce myself before we continue much furter. I am StarSea, a freelance programmer with a passion for petsites and art. I have been studying programming for several years with the dream of making my own petsite some day. Back in early August 2018, I joined the staff team as a coder. I have since received the opportunity to potentially obtain ownership of ClanHeart, however, this does not come lightly. Over the course of the next two years, I will be working to bring the site back to life and rebuild it from the ground up. The plan is to take the project through all three stages - alpha, beta, and official launch - in as transparent a fashion as possible. Throughout this two-year project, I will be acting in the position of owner, however it is important to note that I do not actually own ClanHeart at this point in time. This means that I am directing development, hiring staff, and purchasing assets, but if I do not succeed in this project then I will have to step back from all of that and return to my position of simply coder. Because I am taking on this project with full intentions of obtaining official ownership, I will be working with my own ideas and plans to build a site I want to own and that I believe is better fit for the playerbase. Due to that, information previously stated in news posts or on social media is not guaranteed to be brought into this, such as a Kickstarter or the same specific color wheels. Despite this, I would like to try and keep as many of ClanHeart's original core features as I can. Most notably being the clans themselves, the extensive customizability provided even for basic pets, and territories. They won't be exactly as you remember, with attempts to save the servers a lot of strain while also hopefully providing better player experience. There is still so much more information to be shared, so please stick with us as we all give ClanHeart our best shot! I plan to be releasing a public Discord server as well as a Patreon in the near future, so look forward to those too!